The organization of CID and the correlation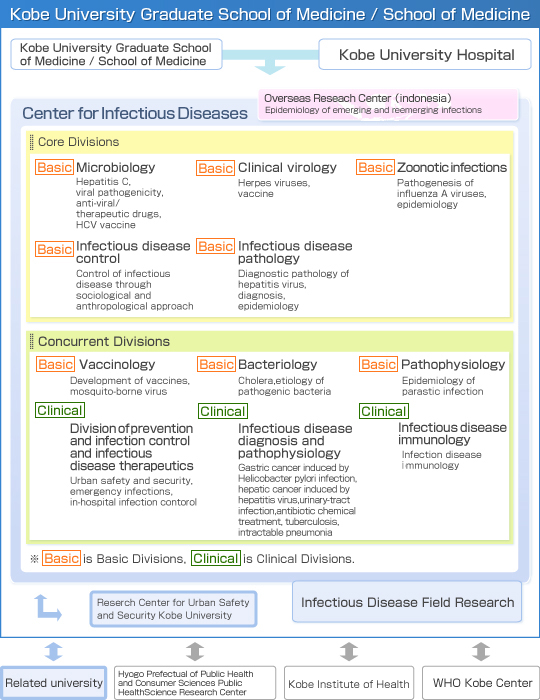 Center for Infectious Diseases
CID consists of 8 divisions in biomedical field and 3 divisions in clinical field, with its aim of developing preventive medicine, diagnostic medicine, and therapeutic medicine, as well as establishing clinical system and manpower development. CID is going to become a hub organization for infectious diseases-control measures in Hyogo prefecture in cooperation with WHO Kobe Center, Hyogo Prefectural Institute of Public Health and Environmental Sciences and Kobe Institute of Health.
Current collaborative research results will be applied further to develop new medicine and diagnosis reagent. Additionally, CID is going to take comprehensive measures and deal with nosocomial infection and safety of the city as well.
※

is Basic Divisions,

is Clinical Divisions.
Infectious Disease Field Research
On infectious diseases which have significant importance from the public health point of view, the patient information will be collected and analyzed and pathogens will be identified from samples collected from clinical institutes and public health centers.
On the identified pathogens, source of infections and its infectious routes will be identified with molecular and epidemiological analysis, thus clarifying the extent of spread in Hyogo Prefecture and finally it is hoped to develop or improve new examination method.
Overseas Research Center
(Kobe University-affiliated Cooperative Research Center for Emerging and Reemerging Infectious Diseases (CRC-ERID))
As a part of its interdisciplinary project, Center for Infectious Diseases (CID) has established "Kobe University-affiliated Cooperative Research Center for Emerging and Reemerging Infectious Diseases (CRC-ERID)" in Tropical Disease Center, Airlangga University, Indonesia, in May 2007 under the auspices of the Ministry of Education, Culture, Sports, Science and Technology JAPAN and has been carrying out the research activities on infectious diseases.
In 2007, two Japanese researchers stationed at CRC-ERID and the collaborative research activities began. BSL3 laboratory was built to establish good research environment for P2 and P3 level analysis on H5N1 avian influenza and genetic analysis and sero-epidemiological study on viral Hepatitis B, C, and E is also performed using the laboratory equipments. In Japan, corresponding research has also been carried out.
This project is a part of collaborative project of CID and is organized by its Director. The main research theme are studies on H5N1 avian influenza and Viral Hepatitis B, C, and E. Since 2008 four Japanese researchers has been stationed to carry out Dengue and Dengue Hemorrhagic Fever and Infectious Diarrhea in addition to the above mentioned two research themes.