Support system for students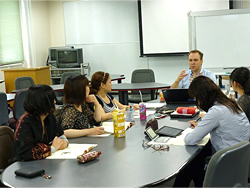 A substantial support system in terms of language and daily life is available to Japanese students and accepted foreign students. Each university is equipped with a distance learning system, so students can take classes in the Program of Practical Academic English for Medicine and Health Sciences year-round. (Tentative)
Japanese students are given "Intensive training prior to temporary assignment" in English through the School of Languages and Communication, Kobe University in order to teach them skills, strategies, and knowledge related to English language presentations, discussion, and academic writing so that program participants can improve their English and better prepare for life at their assigned university overseas.
In addition, a program coordinator will visit schools where participants are temporarily assigned at set times and provide student support. Staff in the local support office will also assist with academics and daily life.
Accepted foreign students will receive an introductory-level Japanese language course so that they can operate comfortably in Japan and concentrate on their studies. In addition, Japanese language and culture training is offered by Kobe University's International Student Center to foster personnel who are familiar with Japanese culture and who can serve as a future bridge between Japan and ASEAN countries. Tours to experience Japanese culture and exchanges with local schools are also offered to foster an understanding of Japanese culture.
Classes in the "Program of Practical Academic English for Medicine and Health Sciences" are also offered year-round to improve students' practical ability to work in English.

・「English Seminar for Japanese students」
(Report on the 2012 Intensive course prior to temporary assignment)
(Class Information on the 2012 Intensive course prior to temporary assignment)
(Class Information on the 2013 Intensive course prior to temporary assignment)

・「Japanese Seminar for foreign students」
(Class Information)
(Class report1)
(Class report2)