Due to pandemic of COVID-19, many countries require entrants to consult medical institutions beforehand and submit a medical certificate evaluating the risk of infection. Therefore, we, Kobe University Hospital Division of Infectious Diseases, will issue health certification for people under the following conditions (not covered by Japanese health insurance).

※Please note that the following descriptions are current as of 6th April 2022 and can be changed depending on the situation.

【Eligibility for issuing health certificate】
・ People who are planning to travel abroad and required health certificate before entering the interested states.
・ People who need health certificate for their work such as professional sports player.
・ We don't accept the appointment of this service for people under health monitoring after returning / arriving Japan.
・ This is not a test for making diagnosis of COVID-19.

【How to make an appointment 】
・ Please contact the dedicated contact (Mail:kobeunivtravel@gmail.com) with the following details.
 ① Name (Same as your passport)
 ② Date of birth
 ③ Sex
 ④Address
 ⑤ Phone number
 ⑥ Passport number
 ⑦Date of travel and required conditions (ex: Time before boarding / arrival etc.)
 ⑧ Required test method and specimen. (※if not, we will perform Real-time PCR test for SARS-CoV-2 (Nasal Swab))。
 ⑨ Desired date and time of the inspection (see below)
 ⑩ Desired date and time of receiving certificate (After the next weekday; see below)

【Reservable time】
・ Examination time  :Weekday 9:00-11:30 (any time)
・ Result receipt time :Monday,Wednesday,Thursday,Friday 9:00-11:30 Tuesday 13:00-16:00 (30min each)

 
Mon
Tue
Wed
Thu
Fri
Sat/Sun/Holiday
a.m.
Examination
(9:00-13:00)
Issue
(9:00-11:30)
〇
×
〇
〇
〇
×
p.m.
(13:00-16:00)
×
〇
×
×
×
×
【Process of examinations on the visiting day】
1. Make sure to wear a mask correctly.
2. When you arrive the hospital representative do not enter the hospital building and visit "PCR center" at the parking space.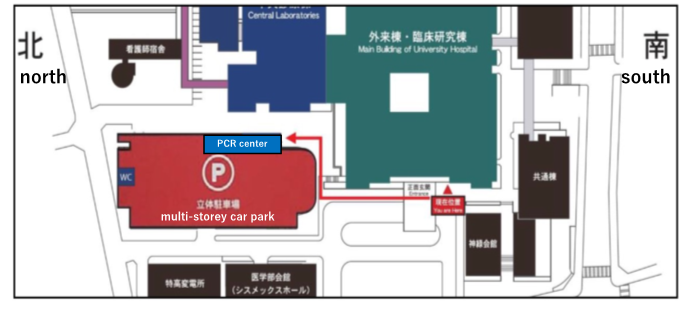 3. Please tell your hospital ID, name, and date of birth at the reception and collect the sample.
4. Please return home as it is after collecting the sample (You don't have to pay at that time).
※If the result is positive, the doctor will contact you. If it is negative, you will not be contacted.

【Process of receiving a medical certificate regarding COVID-19】
1. On the day of receiving a medical certificate, please go to the reception counter for return visit on the 1st floor and go through the procedure for issuing your Patient Registration Card.
2. Please check in at the General Internal Medicine and Infectious Diseases outpatient desk (A15) on the 1st floor and wait until your turn comes.
3. When your turn comes and you are called, please go into the designated examination room.
4. After confirming the format, content and date of a medical certificate, we will issue the certificate.
5. Please submit your certificate to the certificate issuance counter (A14), and pay your bill using the automatic cashier machine or payment counter (No. 7).
6. After payment, you can get your certificate with official stamp.
※Please note that there may be a waiting time depending on how crowded each counter is.
※Please note that you may have to wait for a while after the outpatient reception, as we also provide other outpatient care at the same time.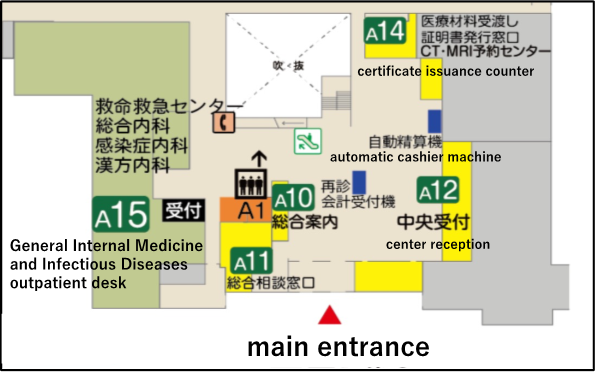 【Time required for health certificate completion】
・ Health certificates require one day for completion in principle. You can get a certificate from next weekday 9:00 a.m.

【Health Certificate Fee】
・ The fee for a health certificate depends on the content of your examination. As examples, costs for the following documents using our hospital forms are below.
① Certificate for PCR test results with or without health certificate: 35,000 yen.
② Additional certificate for test result: The above price + 5,500 yen each
・ You can pay by credit card (VISA・mastercard・JCB・AMERICAN EXPRESS・Diners Club)

【Sample health certificate for SARS-CoV-2】
・ If you wish to have a medical certificate in the specified format, please ask for it at the time you make a reservation.
・ Please click below to see samples of standard health certificates using our hospital forms.


【Caution】
・If the test is conducted after 13:00, the certificate may not be issued the next day, so please come with plenty of time to spare.
・ Some people don't get any symptoms with SARS-CoV-2 (asymptomatic carrier)
・ If the test result turn to be positive, it may be necessary to submit a notification according to the test content.
・ If you are diagnosed as COVID-19, please follow the instructions of the health care center as quarantine will be taken based on the law.

【Related link】
Japanese Society of Travel and Health, List of medical facilities that providing services for PCR testing and certificating issuance for business travelers.
https://plaza.umin.ac.jp/jstah/index2.html